Who is DeFelsko?
Since 1965, DeFelsko Corporation has been manufacturing inspection instruments and coating thickness gauges. As one of the leading manufacturers in the United States of America, DeFelsko operates out of state of the art facilities to research and develop new technologies for quality inspection instruments. This includes pioneering the first combination of ferrous/non-ferrous gauge that can automatically recognise and measure a surface.
DeFelsko has also developed the first hand-held ultrasonic coating thickness gauge to test on non-metal surfaces such as wood, concrete and plastic to name a few. Currently DeFelsko offers more than 70 models of inspection instruments and coating thickness gauges for a wide variety of uses in many different industries all over the world.
What does DeFelsko offer?
1. Coating Thickness Gauge
Having a gauge to measure coating thickness is crucial as the coating of a product is essential to the performance and protection of the product in question. Measuring the coating thickness can only be done with an efficient and accurate gauge to ensure optimal product performance. Regularly measuring a product's coating thickness can help to control costs associated with maintenance and compliance with specification requirements.
DeFelsko's range of coating thickness gauges can be split into three types, namely for measuring coating thickness on metals, non-metals and for measuring uncured powder coating thickness.
For coatings made of metal, magnetic coating thickness gauges come in either one of two ways; pull off coating thickness gauges and electronic coating thickness gauges.

To measure coating thickness on non-metals, ultrasonic coating thickness gauges are used without damage to the coating. High frequency sound pulses are emitted which travel into the coating and reflect off surfaces with differing densities. The time taken for these sound pulses to return back will help to determine the thickness of the coating.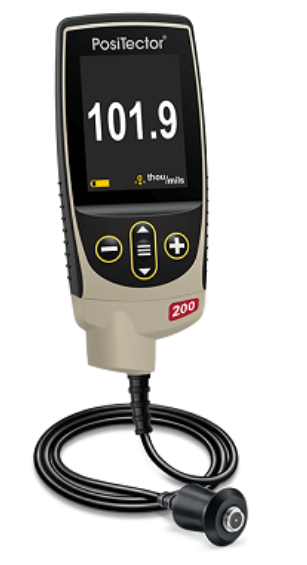 DeFelsko PosiTector 200 Coating Thickness Gauge for Non-Metal Substrates
For uncured powders that have been applied, DeFelsko has non-contact ultrasonic instruments that can display a predicted cured thickness level without touching the surface.
DeFelsko PosiTest PC Powder Checker
2. Surface Profile Gauge
When steel is prepped for paint coating to be applied, it is often subjected to roughening or abrasive blast cleaning. Surface Profile Gauges use a digital depth micrometer to measure and record peak to valley surface profile heights in preparation for the application of coatings to ensure an even coating is applied to prevent rusting in the future. Another method would be to use a digital spring micrometer to measure and record the surface profile using Testex Press O-Film replica tape to form an impression of the surface that can then be measured easily.
3. Environmental Measurement Meter
External environmental conditions may also play a part in the durability of steel coating as they may affect the painting process. As such, it is very important to ensure conditions remain optimal in the preparation and application stage of the paint. To measure these environmental conditions, DeFelsko offers dew point meters, wind speed sensors and infrared thermometers. These measuring devices can record conditions such as relative humidity, air temperature, surface temperature, dew point temperature and wind speeds.
4. Salt Contamination Tester
As workpieces made of steel are exposed to climate and natural circumstances, the metallurgic properties of its surface would change over time and create rust and oxidation. DeFelsko's salt contamination testers are optimized to measure the level of salinity and corrosion properties on steel that have been blast cleaned or other ferrous surfaces. This makes the tool suitable for use in the prior treatment of electronic coating, material quality testing and also painting in an enclosed environment.
DeFelsko Soluble Salt Tester PosiTector SST
5. Hardness Tester
Hardness is a measure of resistance in an object when force has been applied to it. DeFelsko offers digital hardness testers to ensure the highest standards are upheld in workrooms and factory floors for quality control and inspection. To comply with two different hardness scales; Shore and Barcol, DeFelsko has two separate hardness testers that are used to test different materials. Under the Shore system, there are two scales; Shore A and Shore D which are meant for non-metallic materials. On the other hand, the Barcol system is ideal for measuring soft metals and harder plastics that are fiber reinforced.
Depending on the hardness of the material along with its viscoelastic properties, shape of the presser point and the duration of the test, each scale results in a value between 0 and 100, with higher values indicating a harder material.
6. Wall Thickness Tester
Using ultrasonic technology, DeFelsko's wall thickness gauge measures the wall thickness of materials without having to remove its coating. This gauge is ideal to use for measuring tanks and pipes made of steel and other structures of other materials that have been subjected to erosion or corrosion. The ultrasonic technology is especially useful when access is limited to only one side.
DeFelsko Ultrasonic Thickness Gauge PosiTector UTG
7. Pinhole Detector
Following the application of a protective coating, it is critical to ensure that there are no defects or discontinuities that expose the surface beneath. Small areas called pinholes where the coating is thin or missing may result in corrosion in the long run. A pinhole detector, as its name suggests, aids in the identification of such defect holes. DeFelsko offers two types of porosity/pinhole detectors: low voltage (wet sponge) and high voltage (spark tester) for use on coatings that are thinner and thicker respectively.
8. Pull-Off Adhesion Tester
DeFelsko devised a PosiTest Adhesion Tester for quality inspection on adhesion of a paint' coating by assessing the minimum tensile stress needed to detach or rupture the coating perpendicular to the surface. Compared to other methods, DeFelsko's PosiTest maximizes the tensile stress and is used by aligning and attaching it to the loading fixture to apply tension perpendicular to the test surface. The force that is applied gradually increases and is monitored until a plug of coating is detached, or a previously specified value is reached. Both the manual and automatic model have been built to last for usage in all kinds of environments.
9. Oven Temperature Logger
DeFelsko's oven temperature logger helps to measure and record oven temperature profiles to ensure that there is optimal usage. These high temperature stainless steel barrier boxes come with fiberglass insulation for long run times at high temperatures and do not contain silicone. The oven temperature logger can be used with a wide variety of temperature probes that cater for specific usages.
10. Concrete Moisture Meter
A concrete moisture meter is used to measure the moisture levels in concrete and is commonly used by floor installers through its relative humidity and temperature levels. DeFelsko's rapid response precision probes are able to provide accurate and repeatable readings to ensure precise readings.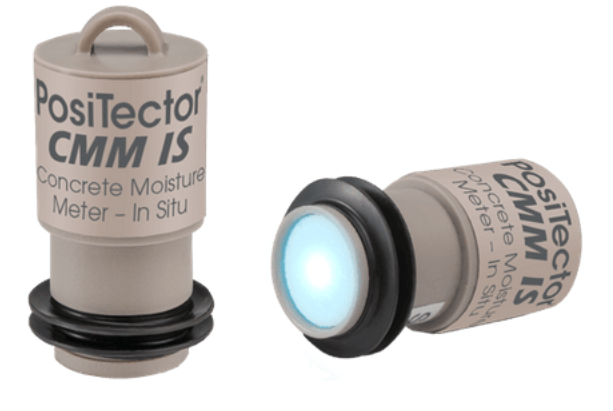 DeFelsko PosiTector CMM IS Concrete Moisture Meter - In Situ Meter
If you wish to find out more about DeFelsko, feel free to contact us for a consultation.
References